DCRP Certified Training on Grid Connected PV Systems Design and Installation
Overview:
The 5 day course covers fundamental principles behind working of a grid-connected PV system, use of different components in the system, methodology of sizing these components to create a well-functioning system, and methodology of evaluating financial performance of the system.
The course also includes a description of procedures to conduct site surveys for system sizing and installation and performing commissioning and maintenance activities in accordance with international standards relating to grid-connected solar PV systems.
Target Audience:
Engineers or technical professionals having good exposure to solar PV and project design / development
Contents:
Brief on different renewable energy sources
Overview of Grid connected PV (GCPV) systems
Solar PV Technology Overview
Grid connected Inverter & Balance of system overview
PV Mounting Systems & Foundations
Site Survey and Assessments
Solar Energy Generation Estimation
Grid integration and cost benefit analysis
Permits, Clearances and Safety Aspects of
GCPV systems
Designing of a Grid connected Rooftop PV system
GCPV system installation & commissioning
Use of software tools
Delivery methodology: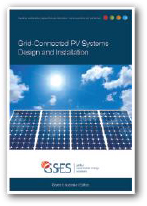 Theory, Exercises & Assessments, Demonstration and Hands-on Practical, Hands-on installation practice with grid-direct systems.
Deliverables:
Book on Grid Connected PV Systems Design and Installation
Workbook, Power point presentations, design tasks, energy yield exercises
Equipment, accessories and tools for demonstration
Delivery Experience & Background:
A consortium of Renewable Energy System Engineers, Trainers, Designers and Installers, collectively having over 80 years of knowledge, skill and experience as consultants, advisors and trainers in the clean energy environment.
Trainers have authored and co-authored several books and training manuals on solar PV system design installation, maintenance and inspection.
Trainer:
Mechanical Engineer with over 25 years of experience, having Masters in Renewable Energy and a practitioner of Solar Energy Design and Implementation projects. Adept in hands-on implementation. Successfully delivered many Solar Energy training programs all across the world.
Training Dates: 15th to 19th May 2022
Last date of registration: 28th April 2022
Training Venue: OHI Training Academy
For Registration, please call: 99835738 / 98081304